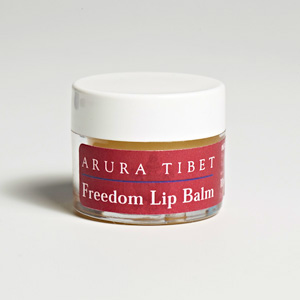 Arura Tibet Freedom Lip Balm
Arura Tibet Freedom Lip Balm :
Lips can be overused and sensitive to the sun, wind, dry air, hot and cold foods, spicy and salty foods. Our lips therefore need a little bit of extra protection and help.

Arura Tibet Freedom Lip Balm is a combination of natural fats and waxes to nourish the sensitive skin of our lips. The waxes protect our lips whilst the vegetable oils soften them. This is a rich lip balm which does not need to be applied again and again because it is free from vaseline, or paraffin oils from the petroleum industry. Beeswax ( pRa-tshil ), Castor ( Den-rog ), Calendula ( Le-brgan-dmen-pa ) have been used in Tibetan medicine for thousands of years.

The ingredients are as follows -

Beeswax creates a protective barrier for the skin.
Shea butter is high in saturated fats, and is an effective moisturizer that stimulates cell growth.
Castor oil is good for dry skin and gives the lips a sheen.
Calendula oil is an anti-septic and anti-inflammatory. It is an excellent oil for damaged and sensitive skin.
Jojoba oil easily penetrates the skin and provides a protective barrier.
Vitamin E is an anti-oxidant, and smooth dry and rough skin.
Orange essential oil is skin conditioners and sweet smell.

INGREDIENTS: Calendula Officinalis Flower Extract ( calendula oil ), Cera Alba ( beeswax ), Ricinus Communis Seed Oil ( castor oil ) Simmondsia Chinensis Seed Oil ( jojoba oil) , Butyrospermum Parkii Butter ( shea butter ) Citrus Aurantium Dulcis Peel Oil ( orange sweet essential oil ) Tocopherol (vitamin E oil ).

*Limonene, *Linalool, * Citral - Chemical constituents naturally occurring in the essential oils.